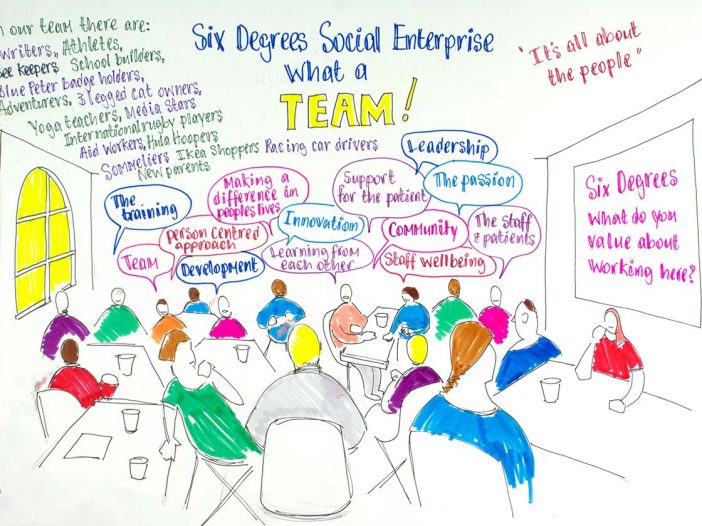 What a Team! Our Recent Away Day
Our recent away day reminded us what was great about being part of a team.:)
We explored what we enjoyed about working at Six Degrees, with each team member reflecting on their time spent working with us and what elements were most valued.
The mood was open and relaxed as we shared ideas, personal experiences and simply being back together. For some it was a great opportunity to reconnect, whilst for several it was the first opportunity to meet face to face since the pandemic.
The event was held at Salford Lads Club, one of Salford's most iconic buildings which was opened in 1903 to provide activities to "brighten young lives and make good citizens". It's official opening in 1904 was by the founder of the Scouts movement, Robert Baden-Powell and the venue provided an ideal backdrop for a relaxed, friendly day.
During the afternoon we were joined by local artist, Paul Pickford who held a workshop. The objective was to take part in an interactive activity that we wouldn't normally do. The session started with some fun drawing activities, designed to build confidence and visual vocabulary so that we were equipped to express our ideas visually. We then went on to design a character with Paul guiding us. It was a really enjoyable experience with a few laughs along the way.
It was a great day and thoroughly enjoyed by everyone. Some feedback from the team:
"It was nice to finally see everyone in person after such a long time apart!"
"I really enjoyed getting together, meeting new people, learning about the company history and learning about ideas for the future of the company as well as the group activity."
"I really valued being asked to contribute."
"We had a relaxed day with no pressure, while also having important discussions."